Training
The EAT Service delivers training on a variety of topics.
We currently provide Level 1 and Level 2 training courses in AAC and Bespoke Training where possible. Please scroll down for more information on our training offer. Please scroll down for more information on our training offer.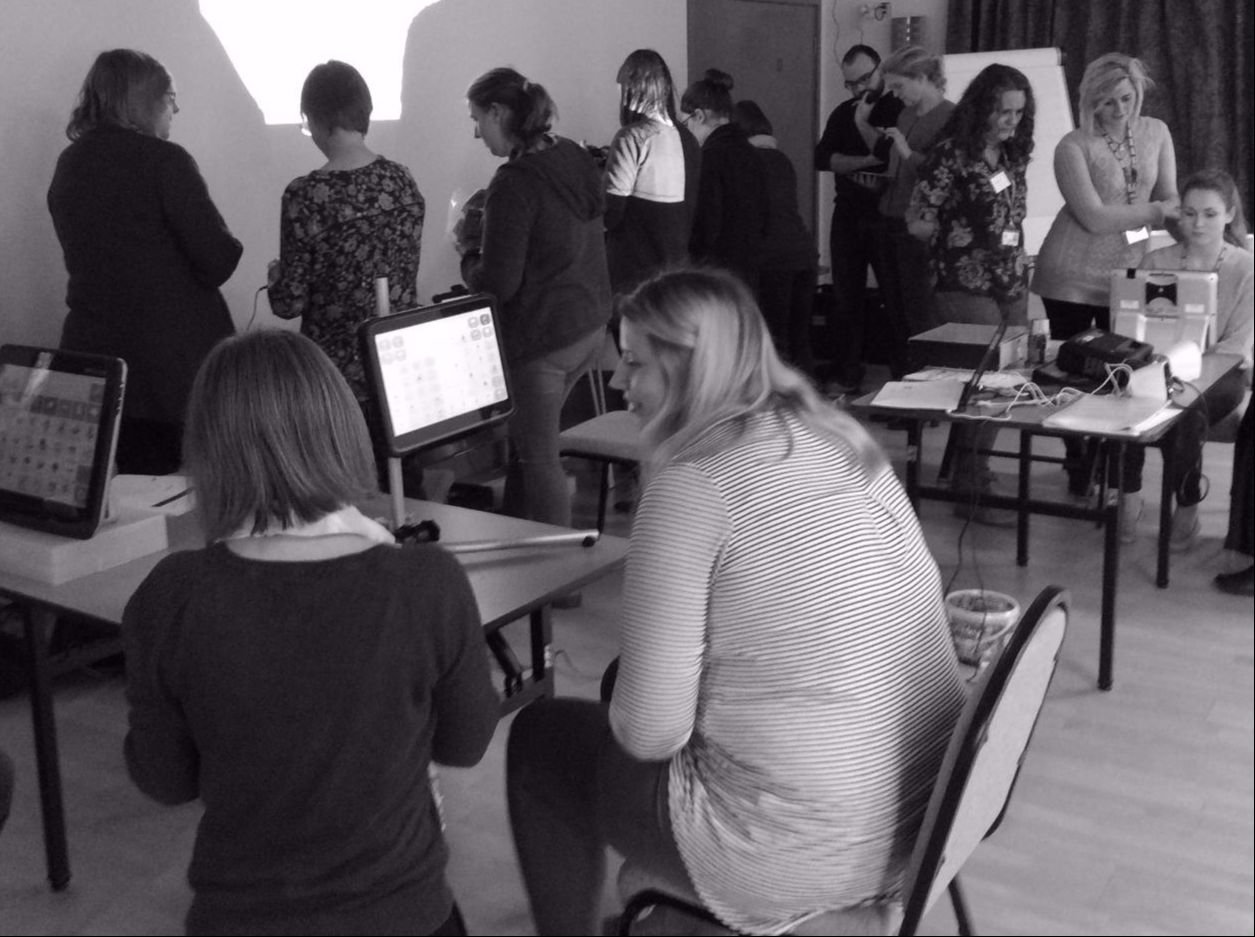 The EAT Service delivers training on a variety of topics including our level 1 and level 2 AAC Awareness training. Please see below for details of the courses we offer.
Level 1 AAC Awareness
This day introduces you to EATS and is a good foundation in Augmentative and Alternative Communication (AAC).
You will learn different terminology used in the specialism, the difference between complexity of devices, key concepts related to implementing and making AAC work, how and when to refer to the specialist service and other essential knowledge needed to work in this area.
The session is a good mix of theory and practical activities and the day concludes with a generous interactive session for all to have a chance to have hands on experience with many devices and communication tools.
During the day we have an expert user attend who tells you his story of using AAC all of his life and is happy to chat and answer questions; this is a valuable experience to understand the person behind the device.
The course is for anyone who wants information about AAC whether you are a client, family member, paid carer, teacher, Speech & Language Therapist, other Allied Health Professional or anyone else who has an interest.
The course runs three times a year and is always popular and attendants provide positive feedback:
"Excellent content, delivery and I feel I have really developed my knowledge of AAC. Though the guest speaker was inspirational and demonstrated how his communication aid has transformed his life."
"Thought it all went very well overall, excellent venue, adequate parking. Excellent presentations by both trainers. Good mix of presentation, group activities and hands on equipment. Presentation by an AAC user. Use of real life examples."
"It made AAC less scary"
The course runs Feb, June and October. Contact eats.lincoln@nhs.net to put your name on the list for the next one.
Level 2 AAC Awareness : Next Steps
This course day will be a follow on day for AAC. Professionals must have attended Level 1 (awareness training) in order to attend OR have significant experience and knowledge re AAC The course will be most useful for professionals working with children or adults who have cognition difficulties.
The course will be expanding on the basic introduction course we facilitate (this was re. what is AAC, different names of AAC devices and hands on trials). We will do the following:
look at the hub criteria in more detail,
developing low tech resources.
Discussing role and responsibilities of local services
Switch progression
Eye gaze assessment and progression
Outcome measures
Target setting
Discussing challenging clients
Expanding on modelling techniques
A date for the Level 2 course is arranged when there are at least six people on the waiting list. The course is for a maximum of 12 people as smaller numbers enables more detailed discussion and analysis of cases. Participants are required to complete a case history form and return it to EATS prior to the course in order to secure a place (the form will be sent in plenty of time).
So far there have been two Level 2 courses facilitated in 2018 and they were both been well received:
"Thank you for a very informative day"
"A really useful course with lots of information and great to have the opportunity to discuss cases and get advice"
"Great balance between theory and practical."
"I really enjoyed discussing outcome measures and goal setting – particularly integrating operational goals".
Bespoke Training
We facilitate bespoke courses on request. We can facilitate our Introduction to AAC or Next Steps course to specific groups both as they are or adapted for the caseload with whom people work, e.g. paediatric, acquired neurological disorders, etc.

We facilitate training for teams who work with individuals who receive a new AAC device. We facilitate training around specific hardware and software.
Please contact us on eats.lincoln@nhs.net to enquire about a bespoke course development and training.
Upcoming AAC Training 2023 at Rolleston Hall, Rolleston, NG23 5SG
Level 1: An Introduction to AAC
Mon, November 20, 2023, 9:00 AM – 4:30 PM GMT
Level 2 AAC Awareness : Next Steps
Date and Time
Weds October 3, 2023, 9:00 AM – 4:30 PM GMT
Contact EATS directly to register your interest.